11/17/2014 2:04 PM grooming • 0 Comments
10 Ways to be an Amazing Thanksgiving Guest
1. Don't show up empty handed. Ever. Not just on holidays, but on any formal occasion in someone's home. Since most people suck, this is your opportunity to show your host how appreciative you are for the invite.
*Bringing food can be risky, as the cook may not appreciate the competition if it's excellent, and you don't want to own the dish no one touches. Keep it simple. Alcohol, flowers or a complimentary dish like a sauce or a dessert.
2. Compliment the host. Dish out a compliment within the first 30 minutes of your arrival. Choose specific things to point out demonstrating your keen ability to notice good taste in detail. Ask questions. "Where did you find that beautifully crafted rug? It's spectacular." "What's that in the oven? I must know your recipe!" Or if you're really struggling ask, "Did you do something different to your hair?" Even if they didn't, this one always works.
3. Don't be late, or early. Look, it's almost impossible for some people to be on time, and we get that. But no one wants to be left waiting. Plan ahead and arrive on time or within 20 minutes of set arrival time. There is nothing fashionable about arriving to the table when all the knives are already pointing at you.
4. Turn off your phone. Set a good example. Show the other guests how much you love to live in the moment of their company.
5. Mention allergies WAY ahead of time. We're talking food allergies, pet allergies, any kind of allergy that will disrupt dinner with some kind of nasty reaction. It's not your fault you have an allergy, but it's COMPLETELY your responsibility to mention it.
*This also goes for vegetarians!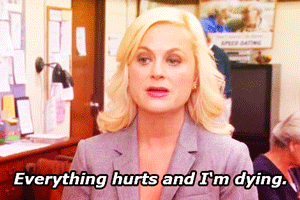 6. Don't be overly helpful. Offer once or twice, but if the host/cook tells you to take a seat and relax, then that's what you should do, despite what your momma might have told you.
7. Be the positive one. What is it about good food and wine around a table that makes people want to kill each other? Here's our suggestion. If it's your family? Stay out of it. If it's someone else's family? STAY OUT OF IT. Try to redirect the focus onto something positive everyone can agree on. Yeah, be THAT guy.
8. Pretend to like it, even if you don't. Slip it to the dog under the table in a napkin, but don't ever tell the host the food is bad. More wine please!
9. Mr. Manners. Being polite never goes unnoticed. Put your napkin in your lap and say "please" "thank you." At the end of the night thank your host, and if you're really looking to score, follow up with a mailed, hand written note.
10. Offer to say the prayer. You don't have to be religious to say how thankful you are. More importantly, this is a great way to get the attention on you, especially if a special someone is present. Keep it short and say how grateful you are for being alive in that moment surrounded by such wonderful company and delicious food.